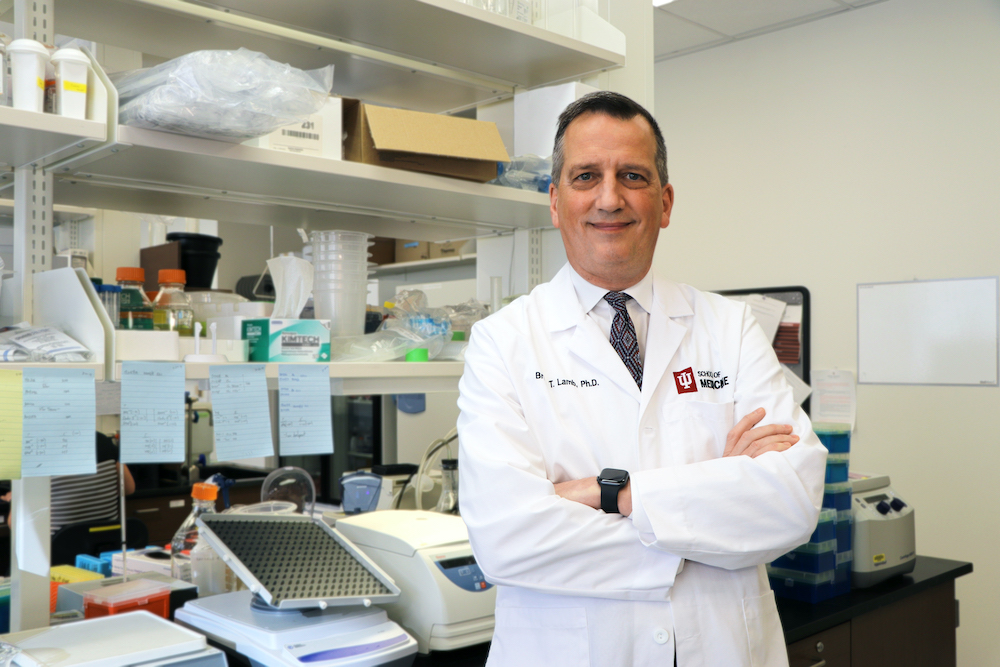 Story from the IU School of Medicine:
INDIANAPOLIS — Investigators from two of Indiana University School of Medicine's largest funded research programs are collaborating on a study investigating the biology behind a gene associated with Alzheimer's disease, with the hopes of developing a drug to treat the disease.
The three-year grant from the National Institute on Aging, worth $2.3 million in 2021, will fund a research study for the Model Organism Development and Evaluation for Late-Onset Alzheimer's Disease (MODEL-AD) and the IU School of Medicine-Purdue TaRget Enablement to Accelerate Therapy Development for Alzheimer's Disease (TREAT-AD) drug discovery center.
The team, led by Bruce Lamb, PhD, executive director of Stark Neurosciences Research Institute; Stephanie Bissel, PhD, assistant research professor in medical and molecular genetics; and Gary Landreth, PhD, Martin Professor of Alzheimer's Research, are investigating a gene encoded protein found in microglia—the brain's immune cells—called phospholipase C gamma 2 (PLCG2). The gene has two genetic risk factors associated with Alzheimer's disease.
One of the rare variants (M28L) appears to increase the risk of Alzheimer's disease while another (P522R) lessens the risk of disease. MODEL-AD—a consortium of experts at IU School of Medicine, Jackson Laboratory, Sage Bionetworks and University of California, Irvine—identified the gene variant that increases the risk of disease, said Lamb, MODEL-AD program director.
"This grant helps us understand how this gene works in disease models and how it impacts the risk for Alzheimer's disease," Lamb said. "It really takes advantage of the models and phenotyping we have in MODEL-AD and all the data we've been collecting from TREAT-AD."
Scientists with MODEL-AD will generate animal models for each gene variant and phenotype them, Lamb said. TREAT-AD, which began in 2019 through a five-year $36 million National Institutes of Health grant, is working to identify potential inhibitors and activators of the gene for drug discovery.
Timothy Richardson, PhD, senior research professor of medicine, said TREAT-AD chemists are focused on designing small molecules that will activate PLCG2 to the same degree as the rare protective variant and then test the compounds in animal models generated by MODEL-AD.
"The preclinical data will support the clinical hypothesis that a drug, given to patients who have the common form of PLCG2 and are at risk of Alzheimer's disease or have mild cognitive impairment, will protect them against neurodegeneration or provide them with a lower rate of cognitive decline as the disease progresses," Richardson said.
In addition to this grant, MODEL-AD received an additional year of funding from the NIA—$5 million—for its program, now entering year six. The group also received a $1.3 million NIA grant supporting a collaboration with Michael Koob, PhD, associate professor at the University of Minnesota.
Koob's laboratory has novel technology for genetic engineering, which can replace a part of the genome of a mouse with a human counterpart. Lamb said this allows human genes to be modeled in mice, so this partnership will allow MODEL-AD to expand its Alzheimer's disease research.
Media contact: Ben Middelkamp; Email: bmiddel@iu.edu