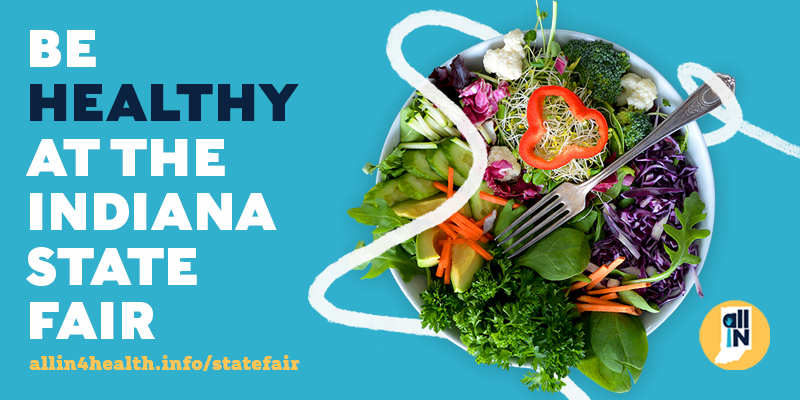 Editor's note: a giant THANK YOU to All IN for Health team nutritionist, Rachel, for this response to the contest entries!
First, a big thank you to all of our participants in this year's Healthy at the Indiana State Fair contest. You're not only winners in our hearts, you're all winners of this contest, too!
Alright, let's dive in. Starting over on the 'gram, we had two stellar interpretations of being healthy at the fair. First, @ecoartistruth enjoyed the animal barns with her adorable twins! We've got a nose plugged to overcome the… aroma… of the barns, but the wholesome lesson of learning where our animal protein and dairy comes from is such a fun family activity. Not to mention, learning about local food is a lifelong lesson in sustainability.
Next, the bragging rights for most physically active at the fair goes to @union_athletic_concepts_ who logged the majority of 22,993 (9.85 miles!!) at the fair. Who knew the Indiana State Fair is where Fitbits go to question their career choice?!
On to some Tweets! Great examples (and self-control), @KeepRealCamille! You (literally) walked the walk of "everything in moderation" – you had three amazing step totals, a slider sandwich for some genius portion control, and threw in some bison with potatoes for something different. And you're right! Bison is a great lean protein and potatoes aren't all BAD – great potassium indeed. If variety is the spice of life, you are crushing.
Last but not least, @Jenifred – we love how broad of a lens you applied to this challenge. You posted about sunscreen and we couldn't agree more. As a dietitian, I love that everyone was able to get some vitamin D activated in the skin from some sunshine, but in a skin protective way. Finally, popcorn got its moment in the spotlight. Are we even Hoosiers if we don't make a corn joke? But seriously…POPCORN – the original whole grain! Does anyone feel like us Hoosiers need to start this marketing campaign? It's amazing the volume of popcorn we can eat for a relatively small amount of calories (e.g. 1 cup for 110 calories! – the best kind of snacking.
In summary, way to put the health in the State Fair this year. You probably had to be a little creative to be healthy, especially in the face of tempting fried goodies. If you can be healthy at the Indiana State Fair, I trust you can be healthy anywhere.