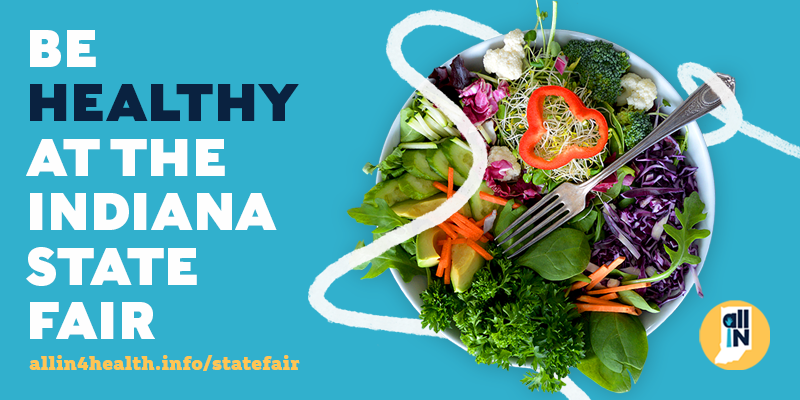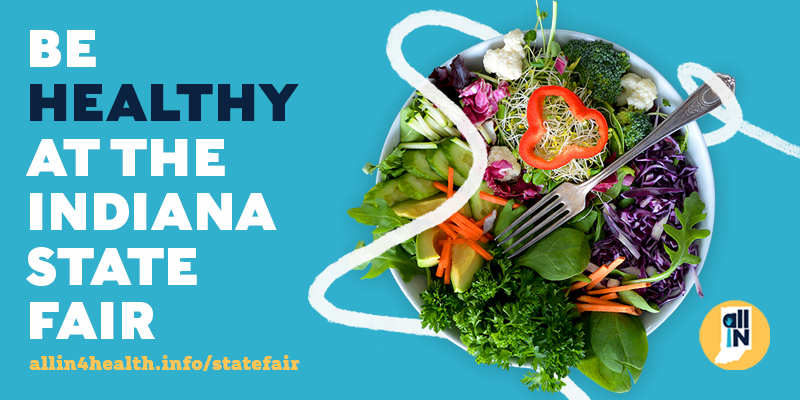 All IN for Health wants you to be healthy at the Indiana State Fair! Today, to coincide with opening day of the fair, we are kicking off a social media photo contest. Join the fun! All you have to do is take photos of your definition of "healthy" at the Indiana State Fair and post them to Instagram or Twitter using the hashtags #AllIN4Health and #IndyStateFair.
At the close of the contest, our staff nutritionist will offer her insights onto the healthy choices, and we'll award four prizes, as outlined below.
Prizes:
One $25 Amazon (why Amazon? Because it can be used for any healthy treat – walking shoes, fitness equipment, Whole Foods, your choice!) gift card each to:
One individual who submits the most photos to the contest
Two individuals who submit the most creative/staff favorite posts
One individual to be randomly selected from all entries
Rules:
The contest begins on Friday, August 2nd and ends on Sunday, August 18th.
Your Instagram or Twitter profile must be public, and you must be following @allin4health (find us on Twitter or Instagram).
Post your photos on Instagram or Twitter using the hashtags #AllIN4Health and #IndyStateFair. You must use both hashtags on each post.
Each post only counts as one point.
Be creative and have fun!
*Please do not take/post photos of other individuals without obtaining their permission. Photos must be of taste.
Here are a few examples of photo ideas to get you started!
A photo of:
healthy food (non-fried veggies, fruit, meat, etc.)
your active transportation to the fair (walking, biking, etc.)
your walking shoes
how many steps you've walked according to your fitness tracker
Have fun and enjoy your time at the Indiana State Fair!
-the All IN for Health team