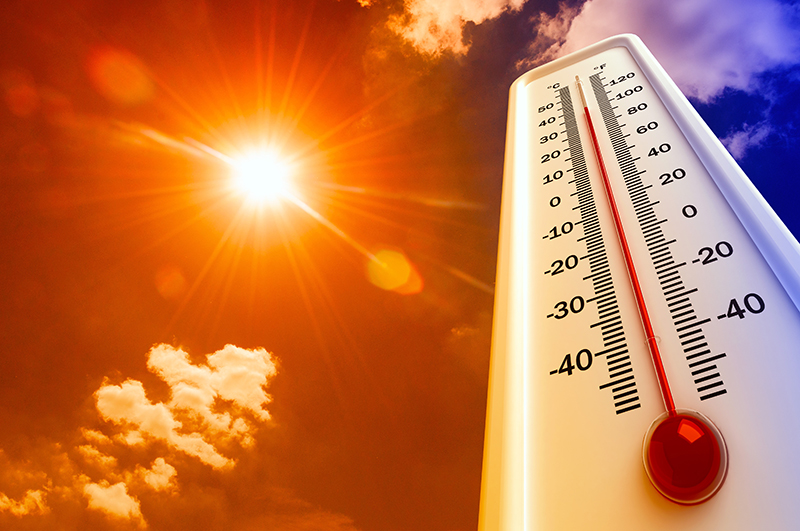 The hottest weeks of the year are just around the corner, and thanks to a collaboration with Indiana University's Environmental Resilience Institute (ERI) and the Indiana Office of Community and Rural Affairs, a pair of Indiana cities are now able to study high heat's effect on residents in order to develop local strategies that protect against the negative health impacts of summer heat.
Clarksville and Richmond have been selected to participate in ERI's inaugural Beat the Heat program.
The Beat the Heat program provides funding for both local governments to hire full-time heat relief coordinators who will work with community members to determine which groups of people are most vulnerable and where the hottest places are on high-heat days.
"As hot days become increasingly common in Indiana, Hoosiers are becoming more familiar with the risks of extreme heat, including heat-related illness and death," said Dana Habeeb, an assistant professor at IU's Luddy School of Informatics, Computing, and Engineering and the program's principal investigator. "We are thrilled to be partnering with Clarksville and Richmond to better understand and address the risks posed by high heat to residents in their communities."
"Beat the Heat will not only help Clarksville and Richmond in understanding the effects of extreme heat on their communities, but it will also pave the way for strategies and solutions to be developed for other Hoosier communities in how to best prepare and respond to growing heat issues," said Denny Spinner, executive director of Indiana Office of Community and Rural Affairs (OCRA). "This meaningful partnership displays a commitment to those members of our community who are at risk of adverse outcomes as a direct result of climate change," said Richmond Mayor Dave Snow. "We must continue to not only reduce our negative impact on the environment but invest in assisting the people of our communities in finding relief during severe weather conditions."
In addition to funding for a new staff member and costs associated with program activities, each Beat the Heat community will receive hospital and emergency management services data related to how hot days and nights impact residents' health, as well as a map of the community's vulnerable populations. Both Richmond and Clarksville will be contributing to a national campaign to map the hottest parts of US cities, with guidance and technical support provided by CAPA Strategies and the National Oceanic and Atmospheric Administration.
In June 2021, Richmond and Clarksville created Heat Relief Task Forces, with members representing a cross-section of each community, to help program leaders and contribute to the program's success. The task force members will meet every other month over the course of the program.
Examples of things communities can do to combat the risks posed by heat include taking advantage of 24-hour cooling centers, increasing tree and vegetation cover, using materials in building and infrastructure that reflect sunlight, and encouraging residents to hydrate and take breaks during the hottest times of the day.
"The Town of Clarksville is focused on taking every measure possible to improve the quality of life for each of its residents," said Clarksville Town Council President Ryan Ramsey. "Last year, the Town formally adopted its first-ever tree canopy program to help address our fading urban canopy. Participating in Beat the Heat aligns perfectly with what the Town is trying to accomplish."
Questions about the "Beat the Heat" program can be submitted to erithelp@iu.edu or the ERI hotline: 833-ERI-ATIU (374-2848).